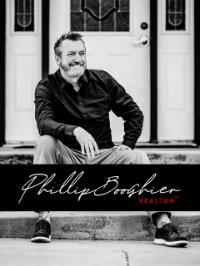 Phillip Booghier
Realtor
RCC,RRS,CLHMS
Knowledgeable, strategic, and trusted real estate professional
LIV Sotheby's International Realty
LIV Sotheby's International Realty
858 West Happy Canyon Road
Castle Rock, Colorado 80108
Drawing from over 20 years of diverse entrepreneurial success across multiple business ventures, I bring a unique blend of financial acuity and business expertise to the residential real estate landscape, setting a new standard for exceptional service. My extensive background in various industries has honed my skills in negotiation, strategic planning, and market analysis, allowing me to create tailored solutions for each client's individual needs.
As a devoted real estate professional, I understand the importance of trust and communication in fostering long-lasting relationships. I am committed to providing personalized guidance and support through every step of the process, ensuring a seamless and enjoyable experience for my clients.
With a steadfast dedication to excellence and a keen eye for opportunity, I strive to deliver unparalleled results that consistently surpass client expectations. By harnessing my business acumen and passion for real estate, I empower clients to make informed decisions, confidently navigate the market, and ultimately realize their property aspirations.
Accredited Designations:
(RRS)-Residential Remodel Specialist(Specialist
(RCC)-Residential Construction Certification(Certification
(CLHMS)-Certified Luxury Home Marketing Specialist
Professional Memberships:
Institute For Luxury Home Marketing®
Colorado Association of REALTORS®
National Association of REALTORS®
South Metro Denver REALTOR® Association
Highly likely to recommend
10/01/2022 - kbruggeman9
Bought a home in 2022 in Englewood, CO 80112.
My husband and I recently purchased an investment property with Phil Booghier as our agent. Phil provided us with advice, feedback, great ideas and suggestions. His understanding of the design and construction process was very helpful and it provided us with confidence in his guidance. Phil was very easy to get a hold of, and he was extremely responsive and hands on. Phil used data and analytics to better predict values which allowed us to submit a strategic offer which we felt very confident in. We would highly recommend Phil and consider him a valuable real estate partner for any future purchases!
Highly likely to recommend
09/02/2022 - cbelay
Bought a single family home in 2022 for approximately $750K in Parker, CO 80134.
As a seasoned home buyer and a highly educated, well-traveled Ph.D., I am now the proud owner of my 5th property thanks to Phillip Booghier. My new home is a dream-come-true for me in the Pinery (his deep knowledge of the Pinery is a major asset), and I am convinced that it would not have be made possible without Phillip's dedication to real estate and the love he puts into his work. Phillip listens to his clients, he is able to tap into what his clients are really searching for, and he bends over backwards to find precisely the property that they have envisioned for themselves. Also, his expertise exceeds beyond simply finding a home for his clients--he actually listens to what you have to say! Phillip also works with you in providing suggestions and expertise in designing/remodeling of the home, choice of carpet/hardwood floors, cabinetry, painting, etc. I have worked with quite a number of realtors during my lifetime, but Phillip's stands apart from all the rest of them. He really goes that extra mile to ensure you are completely satisfied and is easy to get ahold of and communicate with. Phillip Booghier is simply "first-class," and anyone who has the opportunity to retain Phillip as their real estate agent will not regret it.
Highly likely to recommend
06/15/2022 - jeff masterson87
Sold a single family home in 2022 for approximately $1.225M in Castle Rock, CO 80104.
Mr. Booghier is the definition of a Professional Real Estate Broker. During the entire process he consistently demonstrated expertise, diligence, professionalism, and sincere care for my home and family. When preparing our home for sale he spent the time and effort to understand every detail of the house and the property in order to provide his expert recommendations on what needed to be done in order to maximize the value. And that's exactly what he did, maximized our value! He even provided his own hands on work when it came to preparing the home for sale. When it came to purchasing our home, Mr. Booghier was able to find us an off market deal in the midst of a very competitive buyers market and was able to effectively negotiate a price that came in under appraised value! His passion for real estate, his care for his clients, and his knowledge of the industry and the markets, is what makes Mr. Booghier undoubtedly, the best in the business.
Highly likely to recommend
05/03/2022 - bradleywalkersmith
Bought a single family home in 2022 for approximately $625K in Castle Rock, CO 80109.
Phil went above and beyond for us! This market is insane and there's no doubt without Phil we wouldn't of been able to buy. He's very reliable, quick to respond, attentive and extremely helpful navigating through the home buying process. I would highly recommend using him for your real estate needs!
Highly likely to recommend
04/27/2022 - David Miller
Bought a single family home in 2022 for approximately $675K in Castle Rock, CO 80104.
Phillip was AWESOME. He is open and honest about what he recommends and is more interested in getting us the right house rather than selling us the first one we see.
We were relocating from California to the Denver area for work. Having only been to the area for previous work trips, we had limited knowledge on where the "good" spots were. Phillip was great from the very first meeting. He listed to what we were looking for and did his best to make sure we were able to find our new home. Using his knowledge of the areas and locations he helped us find a beautiful home that checked almost every box on our wish list.
He communicated each step of the process from offer to in process to final sale. He also was patient and answered questions us as we navigated buying in new to us market, HOA and title transfers in a new state.
I would highly recommend Phillip to anyone looking for an open, knowledgeable and experienced real estate agent
Highly likely to recommend
04/21/2022 - aspenwildhearts
Sold a home in 2022 for approximately $575K in Denver, CO 80218.
Phillip went above and beyond my expectations on absolutely everything he did. I was out of the country while he listed and sold my condo. He set up the cleaning company, made sure everything was in place and removed items from the condo to make it less cluttered so it would show better. His communication skills are excellent from start to finish. He is always one step ahead and as a real estate professional myself, I was quite impressed to say the least. There is no one I will work with other than Phillip now. I'm very hard to impress and I was blown away by how organized he is and how hard he works. Thank you Phil....greatly appreciated everything!
Highly likely to recommend
04/06/2022 - zuser20211229113640950
Bought a single family home in 2022 in Parker, CO 80134.
I think that Philip is the best realtor! The competition is extremely tough in this expensive crazy market but I was grateful to have him because he went above and beyond. The process of buying a house is a little bit confusing for me but I didn't feel alone because he was there for me in every step and assisted me throughout the whole process. Philip is very smart, knowledgeable and professional. He answered all my questions and was attentive to my concerns. He responds quickly and is easy to reach if I have any questions. I would highly recommend him!
Highly likely to recommend
03/10/2022 - Beth Audette
Sold a single family home in 2022 for approximately $1.300M in Parker, CO 80134.
I cannot speak highly enough about my experience working with Phillip. He was an effective advisor and an excellent communicator throughout the process of selling our home in The Timbers at The Pinery. Phillip is always willing to roll up his sleeves and lend a hand. He did a beautiful job staging our property. His photographer came for three separate visits to create beautiful and professional marketing materials. Phillip's network of professional painters, landscapers, movers, packers, handymen, and plumbers expedited all the processes. He was attentive to our needs and turned a stressful time into a smooth process. If you need it done, he makes it happen! Phillip earned his commission over and over again. I will definitely be calling him again when it is time for my next move.
Highly likely to recommend
02/16/2022 - leusinkj
Bought and sold a home in 2022 for approximately $450K in Parker, CO 80134.
Phillip has got to be the best Real Estate Agent in Colorado. I reached out to him in a panic. I was quickly shoved in to a divorce. I had to sell my marital home and find a new place to buy as soon as possible. The market was in my favor to sell, but not to buy. There were so many things that could have gone wrong, but everything went super smooth and way better than I could have expected. Phillip was very experienced and knowledgeable. He thought of everything before it even happened. He even had to coach the other two agents we were dealing with. The cherry on top for me though, was that Phil was able to get me connected with great contractors for any of my remodeling needs. His contractors were very available very well priced.
Highly likely to recommend
01/06/2022 - Danielle
Sold a home in 2021 for approximately $200K in Aurora, CO 80012.
Phillip is amazing to work with. He helped me sell my property. He was always quick to respond, very knowledgeable of the local market, and well known in the real estate community. He was very helpful in preparing our home for sale. Beyond that he is very personable and approachable and just a great guy all around.
Real Estate Advisor: Discover the Perfect Blend of Personalized Expertise and Unrivaled Brand Advantage
Choosing the right real estate agent is crucial for a successful property journey. With me as your dedicated LIV Sotheby's International Realty professional, you'll experience the perfect blend of personalized expertise and unrivaled brand advantage.
Why choose me as your real estate partner? Here's what sets me apart:
Expert Knowledge: With years of experience in the real estate industry, I have honed my skills and knowledge to ensure that I can expertly navigate even the most complex property transactions. Whether you're buying, selling, or investing, I'll make sure your real estate experience is seamless and enjoyable.
Unwavering Commitment: I'm dedicated to understanding your unique needs and desires, enabling me to provide a tailored service that exceeds your expectations. As your trusted partner, I'll be by your side every step of the way, ensuring that you achieve your property goals.
Sotheby's International Realty Advantage: As a LIV Sotheby's International Realty agent, I have access to an unparalleled network of resources, marketing strategies, and global connections. This means your property will receive maximum exposure and reach, resulting in the best possible outcome for your transaction.
Exceptional Service: By choosing me, you'll receive an unmatched level of service and attention to detail. I take pride in providing clear communication, prompt responses, and thorough market analyses, so you can make informed decisions with confidence.
Trusted Reputation: My commitment to excellence has earned me a reputation as a reliable and trustworthy professional. With me by your side, you can rest assured that your property journey will be in capable hands.
Experience the winning combination of personal expertise and the incredible brand advantage of LIV Sotheby's International Realty. Contact me today, and let's embark on an exceptional real estate journey together.